CELLSAFE INTRODUCES THE NEW SMART RADI-CHIP
WATCH HOW THE RADI- CHIP WORKS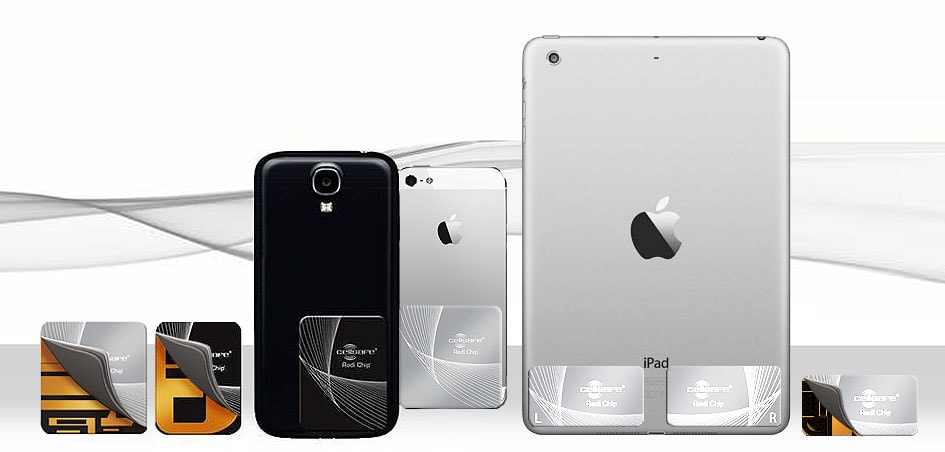 Cellsafe have developed revolutionary NEW Smart Radi-Chip technology, giving you the freedom to use any protective phone / iPad case or to enjoy your device without a case while reducing radiation absorption by up to 95%* (* refer to test results page for individual results according to phone make & frequency band). This product is micro thin (0.35mm) adhesive chip which attaches to the back of the phone / iPad and can be used with any mobile phone / iPad case fitted over the top. Suitable for most popular Smart Phones & iPads. Cellsafe's ground breaking technology is NOT a shield and will not interfere with transmission signal or with call reception.
NEW
RADI-CHIP RANGE
THE TECHNOLOGY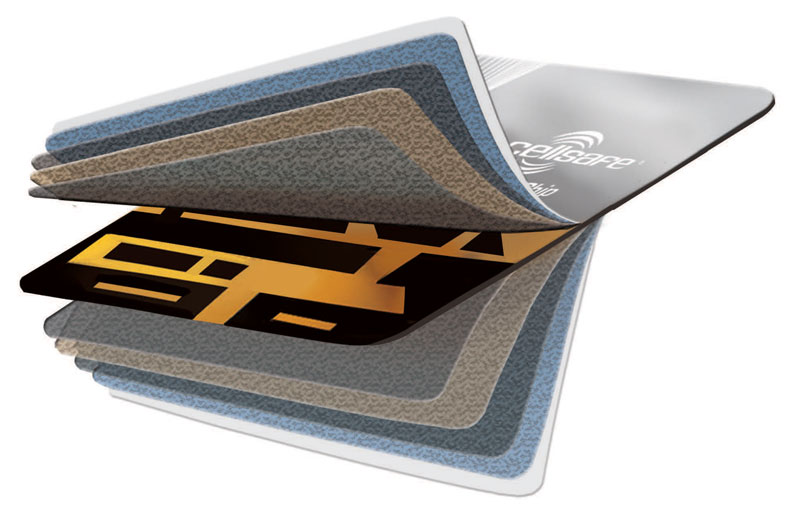 The Cellsafe® Radi Chip™ ( patent pending ) technology has been developed by an Australian RF engineer. Radi-Chips consist of multiple layers of specially formulated microwave absorbing materials, combined with a specially engineered passive directional RF coupler. The layers absorb the majority of the transmitted RF signal from the mobile phone / iPad antenna/s while the RF coupler controls and disperses the signal towards the back of the phone away from the head (iPad Radi-Chips disperse the signal towards the front of the device and away from the users lap / body). Devices which claim to act as 'shields' may significantly interfere with the normal operation of the phone. Reduced or redirected transmission levels caused by such shielding products can interfere with call reception and quality and may also cause calls to drop out. The Radi Chip technology has been scientifically tested and proven not to interfere with the transmission signal or with call reception, unlike these 'shielding' devices.
ADVANTAGES OF THE RADI-CHIP OVER ANTI-RADIATION CASES
Gives you the freedom to insert your phone / iPad into any protective case of your own style / colour choice
Unlike anti-radiation cases, Radi-Chips will not lose their effectiveness over time due to wear & tear.
Micro-thin (0.35mm) adhesive chip attaches directly to the back of the phone / iPad.
Enjoy your device without a case while still reducing radiation exposure by up to 95%
(* refer to test results page for individual results according to phone make & frequency band).
THE PROOF
Developed in Australia, tested by EMC Technologies (accredited by NATA) & proven to reduce SAR. Also tested by other Globally Accredited Laboratories. Click here to download the full EMC test report Chris Zombolas (Technical Director at EMC Technology Laboratory) says in an interview with channel 7, Today Tonight program: It is one of the few products we've tested of this type that actually does what it claims to do.
Read the full interview script .....
BE SAFER WITH CELLSAFE!
Radiation expert Dr. Don Maisch endorses the use of Cellsafe cases to significantly reduce the SAR directed into the heads of Mobile phone users . read more...
Dr. Don Maisch
EM Facts
Cellsafe cases are used and promoted by Dr. Vini Khurana (neurosurgeon and professor of neurosurgery at the Australian National University in Canberra).
Dr. Vini Khurana
Neurosurgeon
THE HIDDEN WARNING IN YOUR SMARTPHONE
When a mobile device is switched on, it is constantly pulsing an electromagnetic and radiation-laden signal. As it is common practice to keep our smartphone in a pocket and then answer it holding it close to your head, the human body is absorbing this radiation with the potential to damage living cells in our bodies. Unfortunately, the current standard for acceptable levels of radiation exposure from mobile devices is nearly two decades old and is set based on outmoded measure of what it takes to heat a large adult male brain.
Before reading further, select "SETTINGS" on your iPhone. Click "GENERAL". Click "ABOUT". Scroll to the very bottom and click "LEGAL". Click "RF EXPOSURE". There you will find a warning about Radio Frequency (RF) or Electromagnetic Field (EMF) exposure - or more bluntly radiation – and guidance about how to reduce exposure to the radiation emitted from your smartphone. "Use a hands-free option, such as the built-in speakerphone, the supplied headphones, or other similar accessories," it says.
"Carry your iPhone at least 5-10mmm away from your body to ensure exposure levels remain at or below the as tested levels."
Dr Anna Young-Ferris, University of Sydney Business School, Dec 2015
MUST WATCH! CBC & CBS NEWS
The secret inside your Mobile Phone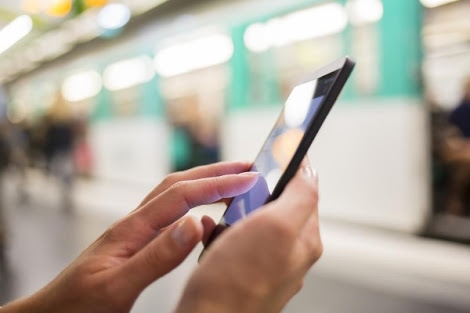 World Health Organization (2011)
On May 31, 2011 the WHO/International Agency for Research on Cancer (IARC) has classified radiofrequency electromagnetic fields as possibly
carcinogenic to humans
(Group 2B), based on an increased risk for glioma, a malignant type of brain cancer1, associated with wireless phone use.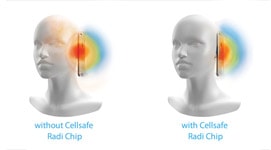 HOW CELLSAFE WORKS
Cellsafe technology doesn't block radiation; It simply redirects it away from your head and body without interfering with the transmission signal or with call reception.
(Image is for illustration purposes only)
Read More
Colbert on Cell Phone Radiation
YOUR HEALTH