Fitting a Cellsafe™ Radi-Chip to your phone reduces SAR to equivalent levels as holding the phone 5-15mm away from the head.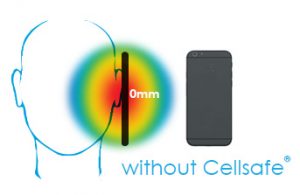 Do you know mobile phone manufacturers advise you to hold your phone 5-10mm away from your head?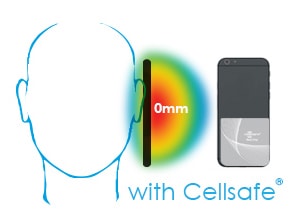 Fitting a Cellsafe Radi-Chip to your phones reduces S.A.R to the equivalent levels as holding the phone 5-15mm from your head.
Examples true for iPhone 6 SAR tested of EMC Technologies report M160803 over distance of 0mm,5mm,10mm & 15mm without any chip.
Images for illustration purposes only, refer to test report for full data.
Apple
Depending on the device (https://support.apple.com/en_AU/manuals/iphone) , Apple instructs users to "Carry iPhone at least [5-10] mm away from your body to ensure exposure levels remain at or below the as-tested levels. Cases with metal parts may change the Radio Frequency (RF) performance of the device, including its compliance with RF exposure guidelines, in a manner that has not been tested or certified."
Go to Settings > General > About > Legal > RF Exposure to see this information for your model.
Samsung
The Specific Absorption Rate (SAR) information for the Samsung Galaxy S7 (http://www.samsung.com/sar/sarMain?site_cd=&prd_mdl_name=SM-G930F&selNatCd=US&languageCode=EN) notes the following: "Body-worn SAR testing has been carried out at a separation distance of 1.5 cm. To meet RF exposure guidelines during body-worn operation, the device should be positioned at least this distance away from the body.
"Organizations such as the World Health Organization and the US Food and Drug Administration have suggested that if people are concerned and want to reduce their exposure, they could use a hands-free accessory to keep the wireless device away from the head and body during use, or reduce the amount of time spent using the device."
Motorola
The Legal Guide for the Moto G (3rdGeneration) (https://motorola-global-en-aus.custhelp.com/ci/fattach/get/1493090/1451510625/redirect/1/filename/Generic_LG_en-GB_68018055008A.pdf) states:
"For optimal device performance, and to stay within the RF exposure guidelines:
When using the mobile phone next to your body (other than in your hand or against your head), maintain a distance of 1.5 cm (3/4 inch) from your body to be consistent with how the mobile phone is tested for compliance with RF exposure requirements."
Sony/Sony Ericson
Go to Settings > About phone > Legal information to see RF information for your model.
BlackBerry
The BlackBerry Classic (http://help.blackberry.com/pt/content/sib/classic/sqc100-1/Safety_and_product_information_sqc100-1_EN.html) safety and product information states: "To maintain compliance with FCC, EU, and other relevant international radio frequency exposure guidelines and limits, keep the smartphone at least 0.59 in. (1.5 cm) away from your body. To reduce radio frequency exposure: (i) use the smartphone in areas where there is a strong wireless signal; (ii) use hands-free options; and (iii) reduce the amount of time spent on calls, or send an email, text message, or BBM message instead."
Nokia
The SAR guidelines (https://support.microsoft.com/en-au/help/12673/mobile-devices-sar-information) for the Nokia Lumia 950 state: "This device meets RF exposure guidelines when used against the head or when positioned at least 1.5 cm away from the body. When a carry case, belt clip or other form of device holder is used for body-worn operation, it should not contain metal and should provide at least the above stated separation distance from the body."
When the manufacturers include these guidelines about mobile phone radiation, is it worth taking the risk of large levels of exposure? Apply a Cellsafe Radi-Chip to your phone and reduce your radiation exposure by up to 95%* with virtually no loss of signal.